About Us
Haleh Azar D.M.D., M.M.Sc. - Orthodontist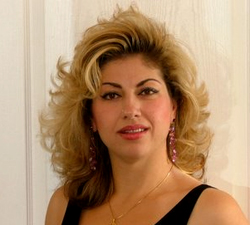 Dr. Haleh Azar has practiced the specialty of orthodontics in the Boston metro area for nearly two decades. A long-term Boston resident, Dr. Azar earned her Bachelor of Science in Biology from Boston College and her Doctor of Dental Medicine degree from Tufts School of Dentistry. She then pursued an additional three-year specialty program at Harvard School of Dental Medicine, where she completed her orthodontic residency and was awarded a Master of Science in Oral Biology. Upon graduation, Dr. Azar was hand selected by the chairperson of the Harvard Orthodontic Department, Dr. Carla Evans, to acquire her distinguished private practice of over 18 years.
Active in professional and civic organizations, Dr. Azar is a member of the American Association of Orthodontists, American Dental Association, Northeast Society of Orthodontists, Massachusetts Dental Society and the Harvard Society for Advancement of Orthodontics. Dr. Azar is a recipient of numerous honors which include: Magna Cum Laude, Boston College; Omicron Kappa Upsilon, National Honor Society; Merritt Scholarship, Tufts School of Dentistry; and National Institute of Health Fellow, Harvard School of Dental Medicine.
Dr. Azar's orthodontic treatment philosophy is patient-centered, with careful consideration given to the unique, individual characteristic of each patient. It is of utmost importance to Dr. Azar that each of her patients enjoy the orthodontic experience and benefit from a great smile when treatment is finished.
Dr. Azar and her husband of 16 years, along with their four children, enjoy traveling and spending precious family time together. Dr. Azar is fluent in Farsi and proficient in French. She loves people and is passionate about the art and science of orthodontics. Dr. Azar considers herself privileged to have a profession which enables her to change lives one smile at a time.
Cristina Baens, D.M.D., M.Sc.D. - Pediatric Dentist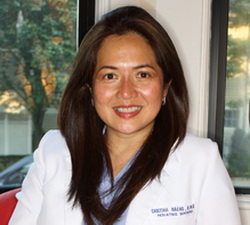 Dr. Cristina Baens graduated with a Bachelors of Science in Psychology and Doctor of Dental Medicine from the University of the Philippines. She was a consistent College Scholar and University Scholar and a member both of the UP Pre-Med Society and University of the Philippines Honor Society.
She was awarded a Certificate in Pediatric Dentistry, Doctor of Dental Medicine and Master of Science in Dentistry from the Boston University Goldman School of Dental Medicine. After graduation, she was invited to join the faculty to participate in the instruction and supervision of undergraduate dental students (Boston University Goldman School of Dentistry) and postdoctoral pediatric dentistry residents (Boston University Postdoctoral Program in Pediatric Dentistry). She also supervised the pediatric residents in the clinic and the operating room at Franciscan Hospital for Children. Dr. Baens is interested and devoted to the dental care of special needs patients as well, and continues to provide care for them at Franciscan Hospital for Children.
Dr. Baens is presently on faculty at the Lutheran Medical Center Residency Program in Providence, RI. She supervises the clinical and operating room training at St. Joseph Hospital for Specialty Care (Providence, RI) and Our Lady of Fatima Hospital (North Providence, RI). In her past time, Dr. Baens loves reading, art appreciation, cooking, exercising, yoga and taking relaxing nature trips. Her love for children is not limited to their dental care. With her degree in Psychology, she was a pre-school teacher for toddlers prior to dental school getting so much joy seeing the toddlers sing their first alphabet to completion. Her love for children continues in her dental practice. Dr. Baens is committed to providing utmost oral health care to her pediatric patients in a manner that is most enjoyable, relaxing and pleasant to them.
Mojgan Rahimi, D.M.D. - General Dentist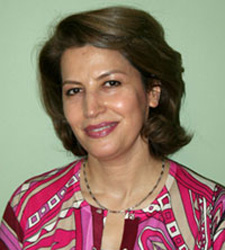 Dr. Rahimi is a general dentist who specializes in cosmetic and restorative dental care. She has been practicing general dentistry since 1998 upon graduating from Boston University Goldman School of Dental Medicine with high honors.
With over 15 years of experience, Dr. Rahimi is here to serve you and leave you with the smile you've always wanted. Whether your interest is in dental implants or cosmetic dentistry, such as teeth whitening, porcelain veneers or porcelain crowns, we look forward to meeting you.
Dr. Rahimi is well known in the practice for her gentle and caring chair side manner, as well as her utmost attention to the finest details of her cosmetic procedures. Dr. Rahimi has made many of our patients very happy with beautiful cosmetic bonding of their teeth. She enthusiastically attends numerous continuing education seminars nationally and internationally to keep up with the latest advances in dental care. Dr. Rahimi is an active member of both the American Dental Association and the Massachusetts Dental Society.